"Nico went out of her way to reach out to me and make a personal connection that has helped me feel much more at ease with the WorkCover process, which at times is very difficult and daunting."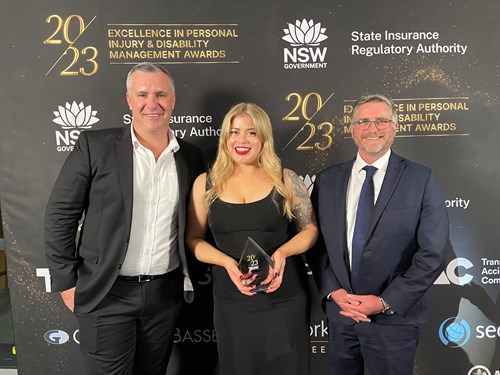 Pictured with Nico are David Pickering, General Manager of EML Victoria (left) and Don Ferguson, CEO of EML Management.
This feedback from Tom, a worker with a mental injury, captures why EML's Senior Case Manager Nico Coad won the Excellence in Customer Service Award as part of the 2023 Excellence in Injury and Disability Management Awards.
The Awards are run by the Personal Injury Education Foundation (PIEF) to celebrate and showcase the outstanding achievements of the industry.
"I'm overwhelmed with gratitude to win the award amongst such strong competition," said Nico at the gala event in Adelaide on August 29. "It's great to be recognised for the important work we do to help people in their hour of need."
When asked to explain her approach, Nico says: "I take the time to listen and build a relationship with people. I ask probing questions to delve deeper so I can understand their situation better. As I'm deaf in my left ear, I think I'm in the habit of checking back with the person that I've heard what they've said correctly."
Nico says that the satisfaction she gets from her work derives from being able to help and have a positive impact on someone's life: "I say that I'm proud of the progress they've made, even if it's a really small step".
One case that stands out is supporting a worker who witnessed a drive-by shooting when she was working at a petrol station.
"Her cultural background meant that she didn't talk about her mental health struggles after the incident," explains Nico. "She found many everyday activities really stressful, including driving her children around.  She'd call me when she was having an anxiety episode whilst driving and said that just talking to me helped her get through it."
In her nomination, Nico's colleagues commented on her empathy and her ability to work collaboratively to get the best outcome for workers. They noted that she steps up for any project to improve the service experience for customers.
Nico has since been promoted to a technical specialist: "The environment EML creates really does allow us to do our best work and I'm thrilled to work for such a great company."
Visit the 2023 PIEF Conference Awards page  for more information on finalists across all categories. Discover all the EML finalists in our Latest News.