EMlearning is an online training platform with a range of free courses in workplace risk topics. EMlearning is available exclusively for EML customers and their employees through the Mutual Benefits Program.
New to EMlearning - How to Help a Teammate in Distress
Our new e-learning course, How to Help a Teammate in Distress, has been developed by FactorC and incorporates their award winning WeCARE program.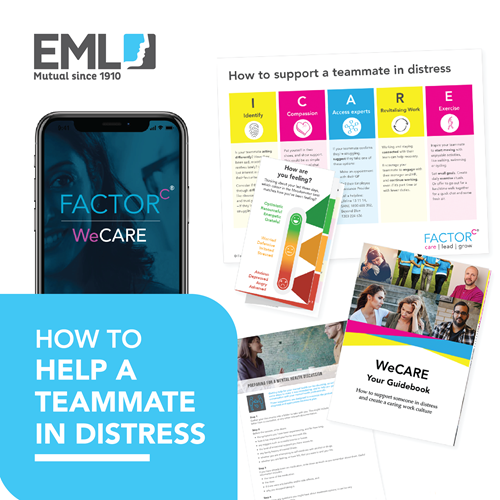 The course helps employees, leaders and employers to identify and provide support to teammates who may be experiencing mental distress. 
How to Help a Teammate in Distress is key component of the award winning WeCARE program which is a scalable, cost effective and accessible way of developing a high performing culture of care in Australian businesses and is now available for FREE to EML customers through EMlearning. 
Access EMlearning today
See why our customers rate our courses as 4.6 / 5 stars*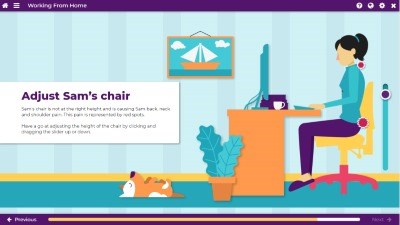 Take a look below to find out more or email mutualbenefits@eml.com.au today to discuss how your organisation can make the most of EMLearning.
EMlearning courses
EMlearning offers interactive and engaging courses developed in consultation with recognised subject matter experts and are designed to support our customers to maximise employee engagement, reduce risk, meet compliance requirements and establish a safe workplace culture.
Many of the free modules are specifically targeted towards either managers and supervisors or workers, with topics including:
Bullying and Harassment
Manual Tasks for Workers
Health & Safety, Duty of Care and Risk Managment
Injury Management
Workplace Conflict
COVID-19
Office Ergonomics
Working From Home
Privacy and the Workplace
Managing Psychological Conditions in the Workplace
Take a look at our full list of courses and course outlines today!
Savings on more courses available through the online store
Save up to 25% on a range of additional course titles in Health & Safety, Ethics & Conduct and Health & Aged Care related topics, such as:
Social & Digital Media in the Workplace
Alcohol & Other Drugs in the Workplace
General Evaluation Training
Infection Prevention & Control
In-built Learning Management System and Reporting Tools
EMlearning also supports employers to efficiently administer training for their organisation with an in-built learning management system (LMS) to help create user accounts and assign courses.

Additionally EMlearning's reporting tools enable employers to quickly and easily create detailed training reports to track course completions and competency for individual users and across the entire organisation.
Already have a Learning Management System but still want EML's free training?
EML Customers that already have their own LMS can also access the free EMlearning courses on their own platform at no charge.
Find out more
If you have a question, feedback or would like to know more, please email mutualbenefits@eml.com.au today to discuss how your organisation can make the most of EMLearning.
*average overall star rating for courses based on over 3000 customer reviews from 2020 - 2021