Training solutions to help you keep people safe and healthy at work
Our wide range of courses and training options are designed to increase understanding of workers compensation legislation, minimise health and safety risks and support outstanding return to work outcomes
EML customers are eligible for free or discounted registration.
Face-to-face courses return
We are delighted to announce a return to face-to-face training in New South Wales and South Australia. Visit the table below to reserve your place in one of the following courses:
Return to Work Scheme Advanced (SA)
Return to Work Scheme Essentials (SA)
Complex Case Management (SA)
Injury Prevention and Risk Management (NSW & SA)
Workers Compensation Essentials: A beginners Guide (NSW)
Tickets for our new face-to-face Return to Work Coordination courses, hosted by Head of Health Policy & Professional Development at Nth°Degree Sciences Jamie Travis, are also now available:
Foundations for Effective Practice (introductory) NSW
Managing Complex Cases (intermediate) NSW
Advanced Theory and Practice (advanced) NSW
We look forward to being able to return to Victoria in the months to come.
Webinars
Our extremely popular webinars will continue, however these events are filling quickly so please book now to avoid missing out.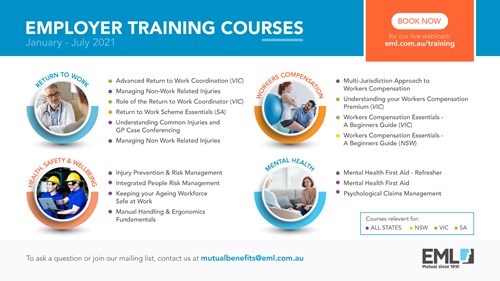 Learn from industry experts through engaging and dynamic training delivered through webinars. Our courses provide practical skills and opportunities for peer learning through live discussion and case studies.
Please note: use browsers other than Internet Explorer for best results for our webinars.
Book your place today
New cancellation policy
EML's cancellation policy has been updated to provide greater flexibility with regards to training cancellations and refunds for our customers.
Stay in touch