Creating safer workplaces
Employers Mutual Limited is an Australian owned mutual and a partner with ASWIG management in the EML Group. As a result of this partnership, EML reinvests funds back into services and research initiatives to assist employers to create safer workplaces and support injured workers return to work sooner. 
Take a look at our engaging training programs, online learning tools and helpful resources today. 
Contact your EML Account Manger or Client Services Manager to discuss how your organisation can make the most Mutual Benefits. 
You can also contact our team directly through mutualbenefits@eml.com.au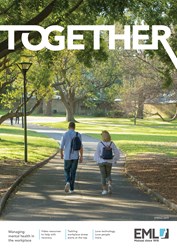 TOGETHER Magazine
Take a look through Together Magazine for a range of helpful articles regarding managing employee mental health in the workplace.