In 2022 EML sponsored the Australian team in the Physical Disability Rugby World Cup which ran adjacent to the Rugby League World Cup in Warrington, UK from 23 to 30 October 2022.
This sponsorship was funded through our Mutual Benefits Program.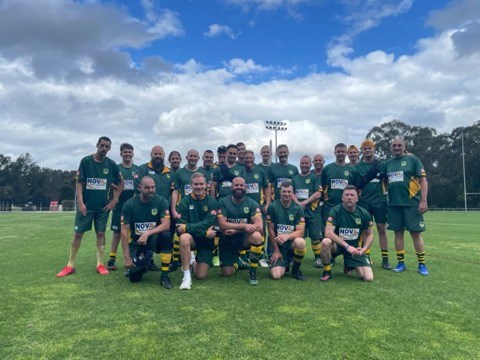 Physical Disability Rugby League (PDRL) is a full contact version of the game adapted for participants with a physical disability who want to access a running version of Rugby League. The Australian team competed against teams from New Zealand, England, and Wales.
This opportunity came to focus when one of the injured workers EML supports, Fred Taiba, was selected to participate in the team. Mr Taiba who sustained a traumatic brain injury in 2013, is a one punch victim who spent 19 days in a coma after a horrific incident working as a bouncer in Sydney's CBD. His claim was transferred from Allianz to EML in 2018 when EML's case managers built a lovely relationship with Mr Taiba and continue to support him with weekly payments and regular communication.
The EML Workers Insurance NSW team who manage the claim came together to raise funds to provide individual sponsorship to Mr Taiba to support him and his partner with the costs associated with travelling to the UK.
PDRL is a competitive offer but has a wider focus on enjoyment in participating in team sport as well as impact on all the wider social benefits the sport of Rugby League provides. Players can join a team to get involved with training sessions, festivals, and competitions.
You can find more information on the Physical Disability Rugby League here.