We are proud to support the The Tweed Chamber of Commerce & Industry Inc which is one of regional New South Wales longest established and active chambers of commerce.
The goal of the Tweed Chamber of Commerce and Industry is to provide networking, education, and advocacy for the business community.
2023 Tweed Regional Business Awards 
As a new member of the community, having officially opened our first EML office in Tweed Heads in August 2023, we were incredibly proud to support the Tweed Regional Business Awards and celebrate the achievements of organisations and individuals who have significantly contributed to the Tweed Shire.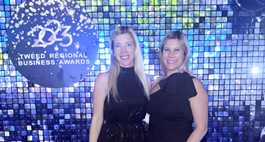 The wonderful gala event held on 1 September was a superb opportunity for our team members to make connections, build relationships and support the region. Hayley Randall and Rhiannon Hall were proud to have the opportunity to announce the winner of the Outstanding Community Organisation Award: Shaping Outcomes.
We'd like to take this opportunity to congratulate all the nominees and the Tweed Chamber of Commerce for organising such a delightful community event.