Sporting clubs support firefighter welfare in game-changing partnership
On the 15 of August the Tactical Athlete Resilience Program (TARP) was launched by Fire and Rescue NSW, supported by EML's Mutual Benefits Program. Firefighters participate in the innovative prevention or post- injury program, where they receive similar treatment and rehabilitation support as elite sport people at the sporting club's high performance facilities.
"EML is proud to support FRNSW in the implementation of this innovative injury prevention and rehabilitation programme, in partnership with elite sporting organisations. It provides Firefighterswith best practice injury pre-habilitation and an intense focus on returning to fitness in the same way an elite athlete approaches a return to playing fitness. Plus the awesome experience of being treated like a professional athlete in the inner sanctum of partnership sporting organisations" said Matt Rodwell General Manager at EML.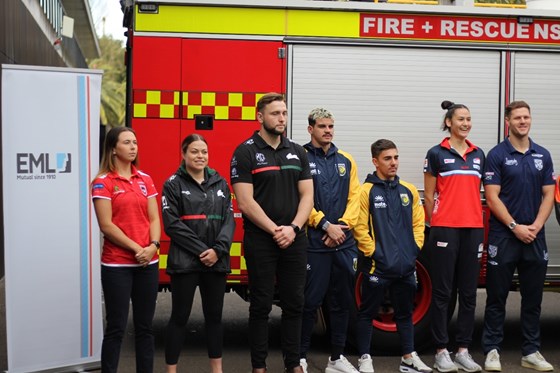 FRNSW is partnering with the South Sydney Rabbitohs, Canterbury-Bankstown Bulldogs, St George Illawarra Dragons, NSW Swifts, GIANTS Netball and the Central Coast Mariners to deliver TARP.
Surveys conducted following a pilot with the Rabbitohs in 2019-20 revealed more than 80 per cent of firefighters were "very satisfied" with the program and wanted to keep engaging with future activities and workshops.
FRNSW Commissioner Paul Baxter said TARP demonstrates the agency's ongoing commitment to its workforce and expanding support networks.
"By empowering our firefighters with elite training, treatment and rehabilitation options, we are boosting their resilience and improving return to work outcomes," Commissioner Baxter said.
"FRNSW is always looking for ways to minimise the incidence and impacts of illness and injury. By bringing on board more clubs and their medical experts across more sporting codes, TARP is now accessible to more of our firefighters and able to better cater to diverse care needs."
In addition to the preventative readiness component – which focuses on keeping firefighters in form – TARP also includes rehabilitation services for firefighters who are injured on the job.
Listen here for the ABC Radio Interview discussing the TARP Program.