Staunch Technology's JobFit System is an online platform that enables employers to quickly and easily compare a worker's physical and psychosocial capabilities to their job demands and risk manage the gap in between.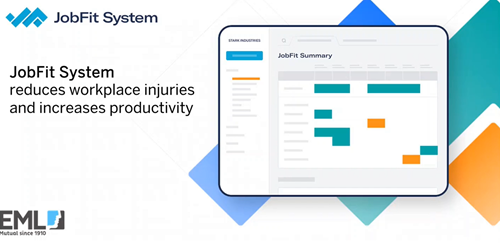 JobFit System is a complete pre-hire to retire solution that supports organisations with:
Manual handling risk reduction
Return to work planning
Pre-employment screening
Health & wellbeing strategy
Using the JobFit System, Staunch Technology can support employers to implement risk reduction projects addressing both psychosocial and physical drivers of musculoskeletal injury.
Key features of the JobFit System include
Online interactive job dictionary, identifying physical and psychosocial components of each job
Job matching functionality, ensuring workers have the capacity to perform the requirements of each task, ensuring safe job placement and abilty to identify suitable duties
Automated workplace risk assessments
Pinpoint areas where you can make change to focus ergonomic initiatives
Reporting on effect of workplace controls and return to work progress
On demand Position Description reports for health providers with risks and images.
Live worker risk profile for any job
EML Offer: Save up to 22% on Staunch Technology bundles
EML Offer 1) 18% OFF Rapid & Durable RTW Bundle
EML Offer 2) 22% OFF Musculoskeletal Risk Reduction Bundle
EML Offer 3) 20% OFF annual subscription to JobFit System
Find out more
 
Offer 1
Offer 2
Offer 3
 
Rapid & Durable Return to Work Bundle
Musculoskeletal Risk Reduction Bundle
JobFit System Subscription
Who is it for:
Employers who need to reduce time lost claims
Employers who must comply with the Code of Practice
Employers who want to manage risk pre-hire to retire
What's included:

Identify top 3 problem jobs
Job Task Analysis for the top 3 jobs
Use the JobFit System for Rapid Return to Work
Project review

Review injury data
Psychosocial risk survey of up to 50 workers
Physical risk analysis for up to 10 tasks
Control options workshop and review

Online job task library management
Interactive jobfitting for SDP
Automated Musculoskeletal risk profile
Unlimited jobs, tasks or worker reports

Duration of project (approximate)
Up to 3 months
Up to 3 months
12 months
EML Offers saving:
18% discount
22% discount
20% discount
Key benefits
Using the JobFit System, Staunch Technology helps organisations to:
Reduce musculoskeletal injuries through manual task risk reduction
Reduce workers compensation claims costs through rapid and durable Return to Work Planning with powerful job-matching functionalities
Meet manual task risk management compliance requirements
Save valuble admin time and effort with easy to use tools and reporting, and
Reduce administrative burden and inefficiencies associated with traditional, paper based job dictionaries and achieve with the in-built job-matching functionality of the JobFit System.
Terms and conditions
Customers must be a current EML Group customer and provide their policy number or employer registration number.

If you are already an existing Staunch Technology customer, please contact Staunch Technology to discuss an alternative offer.

Please visit our EML Offers Terms and Conditions page for full details.
Find out more
For more information, please contact Staunch Technology or visit their website here.