May 1, 2023
Access our freely available articles, resources, videos, case studies, links and resources today!
Beyond providing excellence in end to end claims management, EML also has a proud history of investing in innovative research, training and resources to help employers prevent accidents in their workplace, safeguard the wellbeing of their people and support injured workers recover from injury (or illness) and return to work sooner.
Through the Mutual Benefits Program, we have invested in a large range of resources covering a variety of topics including mental health and wellbeing, police career transition and PTSD support for first responders.
We also have available resources designed to help employers prepare for and manage complex issues (such as occupational violence and ageing workforce). 
Visit what we have available through our resources area today and you can take a look at a few of our recent releases below:
WHS Poster Library
Our colourful posters cover a range of workplace health and safety topics and are ready to download and display in your workplace today.
Each poster contains a QR code to provide your employees with easy access to additional support and information, for example the code on the Safer Manual Handling posters links to our video collection on safer manual handling. 
Each poster template also comes with a co-branded option for you to easily add your own logo. 
Addressing occupational violence and aggression (OVA) in the workplace
Occupational violence and aggression continues to be a significant risk faced by many Australian workplaces, causing both physical and psychological harm to workers. As part of our commitment to helping create safer workplaces, we have made available:
Visit our OVA collection to help prepare for and manage this complex issue in your workplace today. 
Ageing workforce collection
Through this collection, you can find helpful articles and information designed to support employers, supervisors and employees navigate the challenges of an ageing workforce.
Recently we released a set of downloadable information sheets to help employers in the healthcare industry to improve return to work rates for older injured workers.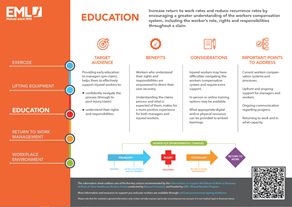 These resources outline each of the five interventions recommended by a study conducted by Monash University's Healthy Working Lives Research Group which was funded by EML's Mutual Benefits Program 
Case studies
Take a look through our case studies detailing some of the innovative health, safety and wellbeing projects that our customers and partners have successfully delivered in their workplaces. 
Some of our more recent case studies include:
More information
If you would like to know more about EML's Mutual Benefits program please contact our team or your EML Account Manager.