Through our Mutual Benefits program, EML partnered with the AHA SA to support hospitality workers and employers develop wellbeing skills, in the wake of the industry wide impact made by Covid-19 restrictions.
Mental Health and Wellbeing in Hospitality Program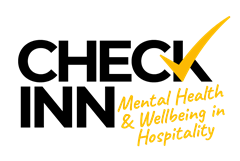 This innovative program includes an engaging podcast series, information sheets and workshops which will be running from late May to July 2021.
The six podcasts hosted by Tim Boylen and Organisational Psychologist Hayley Lokan and are full of practical tips for hospitality owners, operators and workers. These bite sized episodes (just under 20 minutes) cover a range of wellbeing topics such as stress, change, dealing with customers and resilience.
The subjects covered are very topical and make the episodes helpful and relevant to businesses and employees in many industries.
Check Inn Podcasts
Listen to the podcasts on your favourite podcast platform by searching for "Check Inn-Mental Health and Wellbeing in Hospitality" or click on the links below:
Check Inn Information Sheets
Six information sheets have also been developed with details regarding the six podcasts topics:
change
customers
emotional intelligence
resilience
stress
wellbeing
You can access these hand outs through the AHA SA site.