Workplace injuries can be devastating for both employees and the organisations they work for. Through our Mutual Benefits program, EML provides funding to support the delivery of projects that assist in the prevention of workplace injuries and improve workplace injury management.
Last year we supported ALDI by funding an innovative project which was designed to safeguard the health of their Victorian employees. The concept was to provide onsite physiotherapy to aid injured workers through recovery and, importantly, proactively support employees with prompt management of symptoms or pain before more significant injuries could occur.
Prevention is better than a cure
Strains and sprains (mainly involving the back, neck, shoulder and elbow) made up the majority of the 338 injuries which were treated during the program. According to Kiri Chase, Executive Manager – Injury Management ALDI, having a physiotherapist onsite 'helped us to reduce healing timeframes for injuries and helped us closely monitor and support employees with injuries.' Some of the additional benefits of this approach included avoiding the need (and associated discomfort) for employees to travel to attend offsite treatments and reducing employee absences due to injury.
During the program, the time spent on treating injuries gradually decreased with half the physiotherapist's time transitioning to injury prevention activities, such as stretching for specific tasks, strength programs, ergonomic assessments and training for manual handling.
Employee and manager feedback has been overwhelmingly positive and the goal is for this project to potentially expand into other regions.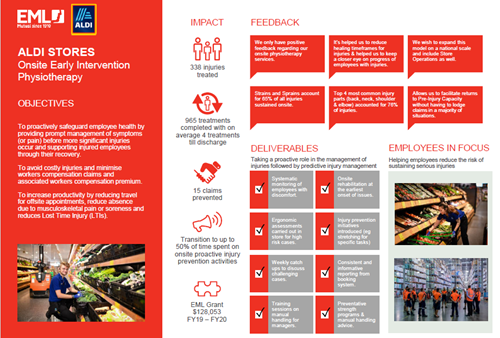 Helping people get their lives back
EML is committed to supporting our customers to create safer workplaces and support injured workers get their lives back sooner. If you'd like to know more about our Mutual Benefits program, please visit our page to find out more regarding our innovative learning programs and research projects.