Bookings are now open for our 2022 Employer Training Program! We have an exciting range of face-to-face and virtual events to help employers keep people safe and healthy at work.
These courses are open to all Australian businesses however EML customers are eligible for free or discounted registration.
Our courses are facilitated by industry experts and designed to help you and your employees:
gain an understanding of workers compensation legislation
minimise health and safety risks
develop outstanding return to work outcomes for injured workers.
Places fill up quickly, so be sure to secure your place.

Course program for 2022
What participants from 2021 had to say
'The training was awesome ... and very informative. [She] thoroughly covered all areas and definitely exceeded my expectations.'
'I found it really engaging ... I loved the ability ... to break off into smaller groups for collaborating.'
Creating safer workplaces with free online training
Through our online training platform EMlearning we also have many more free, interactive and engaging courses available exclusively to EML customers and their employees.
Some topical courses you may consider include:
COVID-19 Coronavirus prevention
COVID-19 safe workplace
Keeping workers safe when working from home
How to help a teammate in distress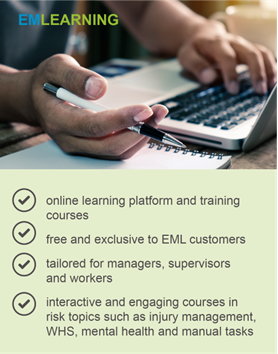 Training, technology and consultancy
EML customers can also access exceptional deals on a range of innovative products and services designed to reduce risk and improve compliance in workplaces.
Visit eml.com.au/offers to access services relating to: return to work, workers compensation, mental health, musculoskeletal injuries, health, safety and wellbeing.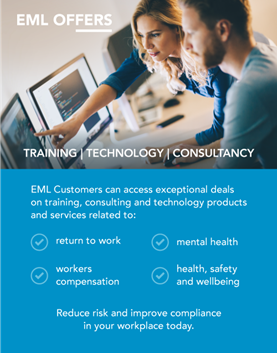 More information
If you would like to know more about the many innovative training, tools and research provided by our Mutual Benefits Program, please contact a member of the team through: mutualbenefits@eml.com.au