It's an exciting step for anyone commencing a new job and successful onboarding is crucial for ensuring a positive experience for new starters at EML.
Two of EML's learning and development specialists, Michael Wheeler and Megan Smith, were instrumental in designing a new education and training program for South Australia, –resulting in them both being shortlisted in the 2022 Excellence in Personal Injury and Disability Awards for Education and Training Program Design of the Year.
Michael commenced in his learning and development role in July 2020 and quickly identified the support new starters needed. At the time, there was no formal onboarding program in place to provide a broad understanding of how EML operates to help people get their lives back.
Working alongside business leaders in EML South Australia, the team began to develop the technical training, along with refining the onboarding plan, which would form the two core components of the program. Following a pilot phase, the new EMLSA Onboarding Program was created and out in January 2021 and has been running successfully since then, supporting many more than 100 people.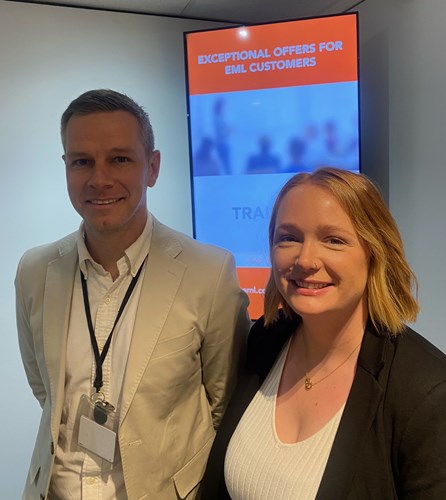 Michael Wheeler and Megan Smith are part of the core team shortlisted in the Education and Training Program Design of the Year in the PIEF Awards.
Initially the program was developed for Mobile and Claim Specialists, however with Michael's knowledge of return to work combined with Megan's background in the eligibility and technical area, it soon evolved into a program that would benefit any new starter in the business.
"To date, more than 130 people have graduated from the program," says Michael. "This is a huge achievement and something we are very proud of. Seeing the positive impact our Onboarding Program has had on the business in South Australia has been a truly rewarding experience."
Megan comments: "Being nominated for an award of this kind, and on this scale, is incredibly exciting. The program we built was never designed out of an interest in being rewarded, congratulated or recognised. It was born out of the most genuine desire to support each and every new person joining our team. No matter the outcome of the Awards, we feel like winners when we hear the great stories about the inspiring things our people do every day."
Award winners will be announced in the coming weeks. Visit the PIEF 2022 website Awards page for more information on finalists across all categories. Discover all the EML finalists in the PIEF 2022 Awards in our Latest News.