January 27, 2023
Musculoskeletal injuries are one of the most common types of injuries managed by workers compensation insurers, in fact according to Safework Australia, these injuries accounted for 87% of all serious claims in 2018-19.
Consistently following prescribed home exercises has many positive benefits including reducing pain, improving recovery time and reducing the risk of recurring injury.
With many workers finding it challenging to follow their exercise program daily, the Mutual Benefits Program has partnered with Lusio Rehab to trial how emerging technology can help, so workers can recover and get their lives back sooner. 
A real gamechanger
LusioMATE is a physical therapy ecosystem application with wearable sensors. It connects to exergames, which are games designed to motivate and guide players through tailormade exercise programs.
'We're very excited to be trialling this new rehabilitation program which combines emerging technology with post-injury therapy.' Merryn Courtney, Partnership Manager EML
Key elements of LusioMATE:
fun interface to increase motivation and adherence to daily movement goals
connects individuals and clinicians via real time data / adherence feature
small and versatile - usable at clinic, at home, anytime, anywhere
suitable for any age group or diagnosis and any physical capability.

The pilot
The pilot will involve 50 participants with musculoskeletal injuries that have been referred to treatment with a physiotherapist or exercise physiologist as part of their recovery.
The main objective is to investigate whether wearable technology and gamification can improve adherence to and compliance with exercise protocols (positively impacting return to work and workers compensation claims outcomes). The project also aims to gather valuable insights into emerging technology and gamification, and how these could be implemented in a workers compensation setting.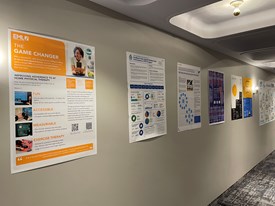 Image above: the pilot was showcased at the 10th International Biennial Congress on Disability Management and Return to Work in Brussels in 2022.
Results to date
The pilot will run until December 2023 and so far, the feedback from participants has been positive, with clinicians reporting they are 'excited' to use the technology as part of their rehabilitation program.


'It is a fun yet important tool to encourage exercise. I found competing against the downloaded games an incentive to exercise.' Trish, pilot participant 2022. 
More information
Through the Mutual Benefits Program, customers of EML have access to a range of innovative tools, training and services designed to improve outcomes for employers, injured workers, and the communities we support.
The following flyer contains more information regarding this pilot and if you have further queries, please email our team today.