Saturday 28 April is World Day for Safety and Health at Work and Workers' Memorial Day. This is a day for promoting safety and health in the workplace and to honour those who have died from work-related injury or illness.
This year's theme is Generation Safe and Healthy and its aim is to highlight the importance of improving safety and health for young workers and our generations to come.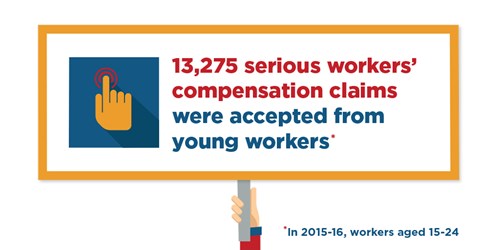 Young workers (those under 25) have an increased risk of workplace injury due to their lack of experience, maturity and awareness of WHS responsibilities.
Their injuries are more likely to result in hospitalisation. So they deserve special attention in terms of their health and safety at work. Importantly, it's not just their physical safety that's at risk. Their mental health also needs protecting.
You can help create a safe and healthy environment for young workers by:
providing the right tools and training to complete work safely
educating young workers about WHS rights and responsibilities, and
empowering young workers to have the confidence to speak up about health and safety in the workplace.
The Victorian Chamber's Supporting Young Workers program, run in partnership with EML, centres on helping employers understand what they can do to achieve a safer workplace for their young workers. It's designed to support business by providing access to a range of programs, tools and initiatives to help educate employers about how to prevent injuries in their workplace.
Resources include:
Free webinars:

Talking safety with young workers
Why young workers are vulnerable in the workplace
An eight-part toolkit providing information and tools to achieve a safe and healthy work environment for young workers.
Safe Work Australia has launched a young workers web page to provide information and resources about building safe and healthy workplaces for young workers. 
You would want someone to be looking out for your young loved ones at work. Please do the same at your workplace and ensure everyone survives their work day.