We Need a Revolution
"We need to completely rethink persistent pain. We need to re-engage with this massive problem and the best methods to prevent persistent pain and give people the resources to recover," Professor Lorimer Moseley.
EML is proud to be a supporter of the Pain Revolution Ride, bringing the latest thinking in pain management science and techniques to regional Victoria and South Australia. This ride was a massive 870kms and stopped at several locations as they travelled from Melbourne and ending in Adelaide on 9 April 2017.
The Pain Revolution was led by some of Australia's leading pain scientists, including Prof Moseley, and on their ride they stopped at several regional locations for community talks and professional sessions.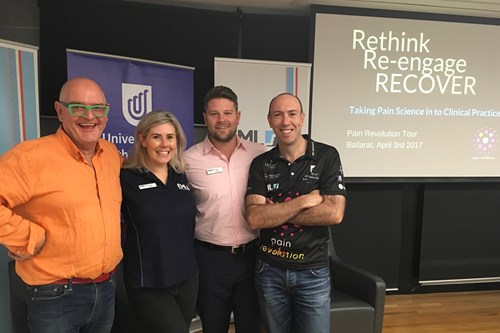 Pictured: Dr David Butler - Neuro Orthopaedic Institute, Kirsty Smith - EML, Nicholas Cahill - EML, Professor Moseley - Uni of South Australia
Community Talks
At the community talks Prof Moseley discussed seven things we know about pain – pain is always real, pain is not related to tissue damage, we are bioplastic learners and can adapt to new things.
Dr David Butler outlined the importance of understanding your own DIMs and SIMS (Danger in Me and Safety in Me). We experience pain when our credible evidence of danger related to our body is greater than our credible evidence of safety.  David encouraged the audience to think about what their own DIMs and SIMs are in order to allow them to better manage their pain by identifying and acting upon their triggers.
Health Professional Talk
To complement the community talks, the team hosted several sessions to update local health professionals knowledge and ability to engage with their patients in order to minimise the impact of pain on their lives. The key message of the sessions was the more you know about the history of the patient the better chance you will have of understanding their pain triggers allowing you to implement a targeted pain recovery program. Utilising screening tools such as the shortened Orebro Musculoskeletal Pain Questionnaire allows the health professional to gain insight into the mindset and concerns faced by the patient ensuring your support is appropriately directed and the patient is actively engage.
The Body in Mind Brain Bus
Dr Tasha Stanton, Senior Research Fellow at University of South Australia, took the lab on the road to share some of the illusions and other groovy experiments that are used to understand and to teach people about pain.
To find out more about the ride visit: www.painrevolution.org