EML attended the Young Workers Centre's launch of its young worker survey results – a snapshot of the issues facing young Australians.
Speaking at the event in Melbourne on 7 October were the Minister for Finance and Multicultural Affairs, Robin Scott; Secretary of the Victorian Trades Hall Council, Luke Hilakari; and WorkSafe Victoria's Chief Executive, Clare Amies.
Key findings from the survey of over 1,000 people aged 15-24 show that:
More than half of those surveyed reported experiencing bullying or harassment at work.
When asked to do work that wasn't safe, 55% reported they did it anyway.
Young women believe sexual harassment is "normalised" in their workplaces.
WorkSafe's data shows that 49 young people aged 15-24 were injured every week in 2015/16.
EML supported the research as part of its commitment as a mutual organisation to fund programs and research that help Victorian employers create safer workplaces.
Click here to read the Young Workers Centre's report summary.
View the media coverage in the press The Age, radio Triple J and on Channel 10's The Project – the story starts at 22:04.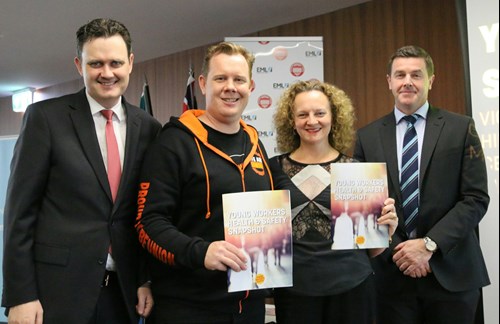 Pictured at the launch, from left: Hon Robin Scott, Luke Hilakari, Clare Amies and Declan Collins, EML General Manager – Victoria.