We know that it can be a difficult and challenging time for workers when they are transitioning from the workers compensation scheme.
Apart from their initial work-related injury, people who have had to depend on income support for long periods may experience other health and wellbeing challenges, as well as financial hardship when their entitlement period ends.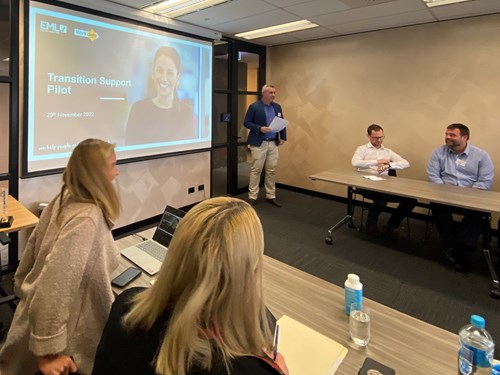 Representatives from Monash University, ISCCR (the Institute for Safety Compensation and Recovery), WorkSafe Victoria and EML came together this week to discuss the outcomes of a 12-month Transition Support pilot – which aimed to improve work participation, general health and wellbeing, and the overall transition experience.
EML partnered with WorkSafe Victoria to run the pilot which involved 53 injured workers.
"The focus of the pilot was to understand the unique needs of each worker," explains Michael Roth, EML's Manager of Claims Services in Victoria. "A tailored transition plan was then developed to meet their individual goals, with assistance provided to connect people to a range of supports such as health, financial, family and community by a qualified care professional, enabling them to be better prepared as their entitlement to weekly payments comes to an end.
"The initial results of the pilot are very promising and WorkSafe and EML will continue this work, with new dedicated Transition Support Specialists employed to help injured workers."
Feedback from workers involved in the pilot has been positive. One injured worker involved in the pilot said:
"I am writing to express my gratitude for your [Case Manager and Transition Support Specialist] timely help and assistance.
I would like to thank you for referring Max [of EML's internal career coaching service] to me. Max provided great comprehensive and systematic support in searching jobs for me. [He] not only revised and improved my resume, he simulated various interview scenarios. His professionalism and patience is impressive. He helped me gradually regain confidence, without which I would not have such a chance.
"I will start my casual work from next week… they offered me a work from home position, flexible 8 hours a week that won't affect my part-time study, it seems a good opportunity for me to return to the workplace at this stage."
The results of the pilot are currently being evaluated by ISCRR and are due by the end of the year.