In recognition of World Mental Health day held on Monday 10 October this year, EML employees across Australia have joined together to promote social and emotional wellbeing in our community and help raise awareness of mental health issues.
"At EML, we take our contribution towards helping to raise awareness and understanding of mental illness in the community seriously," said Mark Coyne, Chief Executive of EML. "By showing our support for mental health awareness and getting behind the many organisations which are joining forces to help support it, we aim to demonstrate our joint commitment in being a long term partner in supporting those who struggle with mental health in their lives."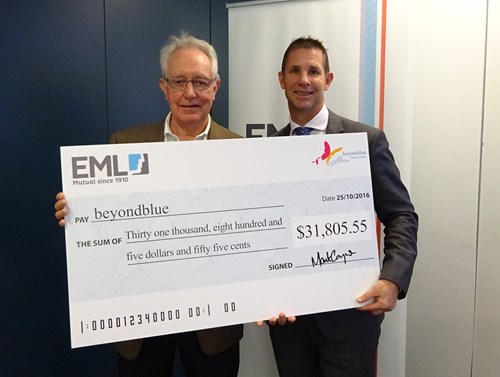 Over the past five years, EML has made a series of contributions through its Member Benefit program, funding a number of research studies and initiatives which support issues such as employee wellbeing and Post Traumatic Stress Disorder.
During October, EML employees across our national offices held a number of initiatives through our workplace giving program – mycontribution, raising over $1,800 in funds for beyondblue. This is in addition to the $30,000 donation EML has made as a corporate donor for the charity.
Speaking at its recent EML beyondblue breakfast held in Sydney on Tuesday 25 October, Mark Coyne welcomed guests to hear first-hand more about the issues facing three million Australians living with depression and anxiety.
The audience heard from beyondblue volunteer speaker and former chartered accountant Chris Gotham who shared his personal experience of dealing with depression and his road to recovery; and Cynthia Wilson from EML who shared insights into the programs EML provide to support the mental health of their claims managers, who meet many challenges on a day to day basis in the workers compensation industry.
The event concluded with a presentation of the donation by Mark Coyne to Chris Gotham, as a volunteer representative of beyondblue. EML's donation will go towards funding for beyondblue initiatives, including programs, research and the 24/7 beyondblue Support Service.
If you require assistance, the beyondblue Support Service provides advice and support via telephone 24/7 - just call 1300 22 4636.
Or if you would like to show your support please visit beyondblue.org.au