April 28 is the International Day of Mourning, when loved ones and colleagues in countries around the world pause to remember those whose lives were lost in workplace incidents.
While EML is inspired by our purpose: to help people get their lives back after a workplace injury, this purpose takes on new meaning in cases of workplace fatality.
Feel the Magic® is Australia's largest and leading grief education and support program for children grieving the loss of a parent, sibling or legal guardian.
EML is partnering with Feel the Magic® through a sponsorship which will see an additional 20 children and their carers attend a weekend-long program that combines fun and physical challenges with grief education and emotional support.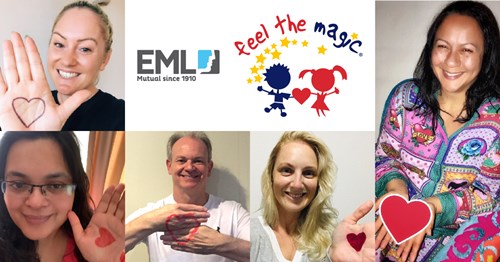 "Every single work-related death has a devastating impact on both families and colleagues. Our Case Managers support the employer and next of kin and often connect with the children who've lost a parent. It is important to EML that these children receive the ongoing support they need to cope and move forward with their lives," EML General Manager Return to Work and Support Services Adam Keogh said.
EML's Technical Manager, Kathryn Horne has been volunteering with Feel the Magic® for more than two and a half years as a Talk Time Support Person and Mentor.
"My own father passed away in 2007. Once you've experienced grief first-hand it's pretty life changing. I'd been volunteering with children already when I came across Feel the Magic®. I thought it was perfect. It was two of my heart-felt passions brought together. I attended a mentor training session and was on the very next camp," Technical Manager in Return to Work and Support Services, Kathryn Horne said.
In 2018, there were 144 work-related deaths. In Australia, one in every 20 children aged 7 to 17 will experience the death of a parent. Despite this, community-based services for bereaved children are very rare.
"Our purpose at Feel the Magic®, is to create a world where children who are experiencing grief are supported to reach their full potential. I'm proud to be partnering with EML, together supporting young people who have been affected by workplace accidents," Managing Director and Founder of Feel the Magic®, James Thomas said.