The Australian insurance industry has recognised the significant contributions of Hospitality Employers Mutual Limited (Hospitality) and as Finalists in two categories at the Australian Insurance Industry Awards.
Hospitality was the runner-up in the Young Insurance Professionals Employer of the Year Award for commitment to the employment and development of young insurance and finance professionals.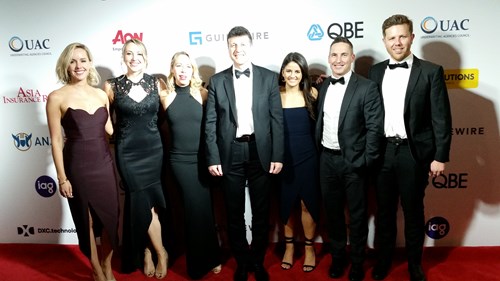 "Young, enthusiastic working professionals are integral to Hospitality's culture. They reflect who and what we are: high-energy, fresh and passionate about our purpose of helping people get their lives back" said George Katsogiannis, CEO of Hospitality.
Through dedicated staff development programs, mentoring and leadership pathways, young insurance professionals at Hospitality are offered a strong foundation from which they can begin their careers.
"These employee skills impact our business directly and constantly. Over the past 10 years we have provided over $55 million in premium discounts and savings to our customers by achieving significantly better return to work rates than the industry, and improving Work Health and Safety" said Mr Katsogiannis.
"What we in Hospitality contribute back to society says much about our people, our business, and our sense of community. My thanks goes to the team in Hospitality for their efforts and congratulations to the Award winner" said Mr Katsogiannis.
EMLife was a finalist in the 2018 Service Provider to the Industry Award for significant contributions to the Australian insurance industry through service delivery.
The last five years have had unique challenges for the Australian life insurance industry. These challenges have created pressure with Insurers to meet operational targets when dealing with complex or long duration claims.
"We viewed this as an opportunity for EMLife to help. We enabled the industry to be more effective in its day-to-day operations by managing portfolios of long duration and complex claims" said Geniere Aplin, Group Executive at EML.
As a result, EMLife's return to work outcomes are five times the industry average for long duration claims, with sustained outcomes demonstrated by a low re-open rate of 2%.
The EMLife team is committed to assisting the industry in improving minimum standards of claims practice and to ensuring the 'voice of the customer' is considered.
"We've been helping people recover from workplace injuries and get their lives back for over 100 years. The work by all our colleagues is so important and I congratulate all the winners of the Australian Insurance Industry Awards" said Ms Aplin.