Peter George, EML's Group Manager sat down with one of his sporting heroes and Australian cycling legend to discuss life, work and the importance of support from family, friends and colleagues.
This was their second meeting, with Stuart visiting Peter's school following a gold medal at the Commonwealth or Olympic Games in the early 90's.
Peter still recalls the day clearly and the impact Stuart had on him and his inspirational message about what it takes to perform at an elite level in cycling.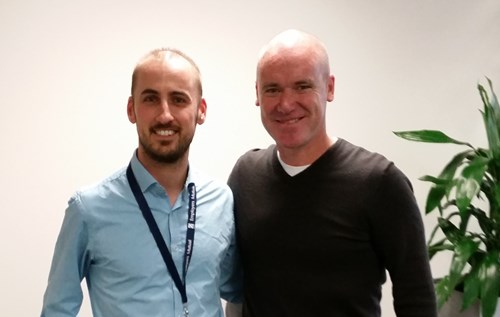 Both talked extensively of their mutual passion for cycling and how Stuart is currently working with returned service men and women using cycling as a way to help them cope following physical & mental injuries.
Stuart was also very interested to understand Peter's journey with Motor Neurone Disease (MND) and the types of challenges MND has thrown Peter's way since his diagnosis in 2013.
They also discussed Peter's dad, Ashley George's mammoth 2100 km cycle from Adelaide to Brisbane in late September to support the work of Cure for MND Foundation. It was also fantastic to hear Stuart ask how he could help publicise this fundraising ride.
Peter found the opportunity to talk one-on-one with Stuart, a sporting hero of his "very cool, and rather surreal".