EML Board Director Flavia Gobbo, hosted a lunch in Melbourne for 70 women in business as an opportunity to come together, and be inspired by two successful, passionate sportswomen.
AFLW's Katie Brennan of the Western Bulldogs and Sharelle McMahon, former netball captain who played for Australia in over 100 games, shared stories about their career highs, and lows, in conversation with Leigh Russell, a sports administrator, director and author.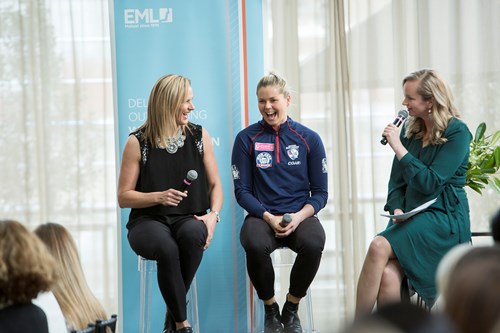 Katie and Sharelle talked about leadership, having supportive mentors and their definition of success.
For Katie, success is partly about "just showing up" – putting in the effort, every day, to continually improve. When asked what motivates her, she shared a quote that resonates with her: about being your best self on your worst day.
Sharelle's view that the motivation is over rated clearly resonated with the audience. She shared that, like everyone, she doesn't want to get up super early! That it's not about motivation – you do it because you know it's what you need to do to achieve your goal.
The questions from the audience showed that the themes discussed by the presenters directly applied to business, as well as the sporting world.
While most guests were able to remain after lunch and get to know each other, Katie showed us she does practice what she preaches – she headed straight off to a training session.