EML teams and individuals have been recognised as finalists in the Personal Injury Education Foundation (PIEF) Awards for Excellence in Personal Injury and Disability Management.
"To be chosen as finalists says so much about the work that we undertake every day, the relationships we forge with customers and the commitment we all share to helping people get their lives back" Cameron McCullagh, EML Executive Chairman said.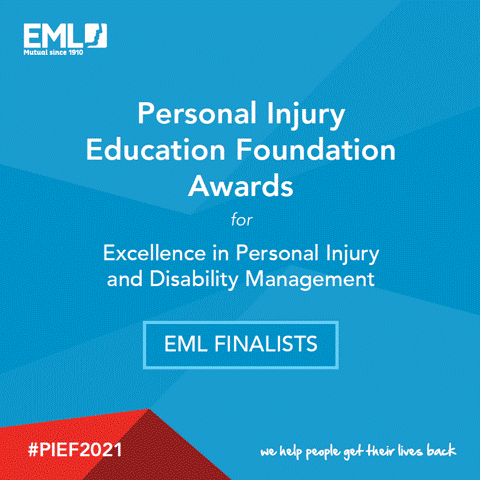 Congratulations to our finalists:
Michael and the NSW Fire team: Excellence in Customer Service

In partnership with Fire and Rescue NSW, Michael and his team helped deliver outstanding customer service to more than 150 firefighters affected by cancer as a result of chemical exposures whilst at work. By taking the initiative to resolve problems, the team has been able to build strong relationships with customers and accommodate changing priorities.
NSW PES1 team: Excellence in Injury & Disability Management (Serious Injury/Significant Disability) Award

PES 1 team members assisted two first responders and their families through serious injuries sustained on the job. One of the injured people was fitted with a prosthetic leg and achieved a remarkable Return to Work (RTW) within 12 weeks of the injury. The second person achieved the monumental milestone of Pre-Injury Duties (PID) a little more than a year later.
Emma Blake and Clare Sheehan, ISLHD: Collaboration in Injury & Disability Management Award

EML Health teams and the Illawarra Shoalhaven Local Health District (ISLHD) have been working together on workers compensation claims management for 10 years, improving workplace safety through risk management and assisting vital health workers back to work after injury.
Neven: Emerging Leader

Neven has demonstrated ability to deliver outstanding customer service, create and nurture high performing teams, and deliver significant uplift in customer engagement.
Renee Hudson and the Workers With Highest Needs (WWHN) team, NSW: Excellence in Injury & Disability Management (Serious Injury/Significant Disability) Award

The WWHN team have consistently achieved quality outcomes for the most severe and long-lasting injuries in workers compensation. The leadership team invests in coaching and supporting team members, whilst upholding EML's organisational values and behaviours to effect positive change.
Jodie Flynn VIC: Outstanding Contribution by an Individual or Team Award

Jodie is an industry trailblazer, having worked in the Victorian workers compensation scheme for more than 35 years in many varied roles throughout her career. Her most recent roles at EML have seen Jodie pilot a new way of working with our most vulnerable, long term injured workers and bereaved families through the development and implementation of the Recovery Assistance Program (RAP) in partnership with WorkSafe.
Cindy Khuoc: Finalist in Innovation in Injury & Disability Management

The Pharmacy Opioid project reduced the adverse impacts of prescription opioid medication on injured workers by educating and engaging the GP and injured worker. Identified claims were reviewed for proactive intervention by Cindy as our in-house Pharmacist, to ensure that opioid prescription was clinically justified, and that the customer and their prescribing treating health practitioner were aware of the possible negative impacts of long-term use of opioid medication.
"It is rewarding to see these achievements along with those of the other finalists being recognised within our industry. Every finalist has contributed to affecting positive change for people at a time of need, while setting the benchmark for outstanding personal injury and disability management" Cameron said.
The Personal Injury Education Foundation (PIEF) is committed to fostering, developing and inspiring talent, by providing quality education and training and professional development programs, events, and initiatives for people working in the Personal Injury and Disability Management sectors across Australia. The PIEF Awards began in 2008 to celebrate and showcase the outstanding achievements of our industry.
The PIEF national conference is scheduled for 12–14 July in Brisbane with the theme Connect. Discover. Evolve. EML's David Fryar is a Plenary Speaker, Simon Bailey and Will Barsby are invited speakers.