Young case manager recognised for helping to rebuild lives
EML Team Leader, Neven has been selected as the icare Industry Champion of 2020 in the Young Professional category.
This program recognises the achievements and acknowledges the work that has taken place in what was an extremely challenging year. It was delivered as an alternative to the 2020 CASE Awards, which were cancelled due to safety concerns over COVID-19.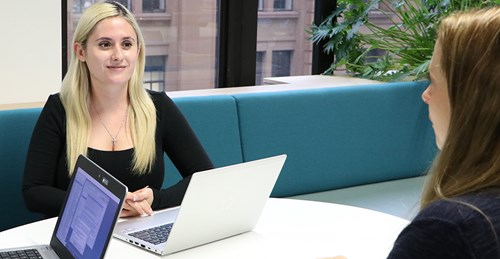 "Neven has been a valued member of the EML team for five years, beginning her career as a case manager and moving into her current role of Team Leader. She has a focus on helping people achieve their goals and providing a positive customer experience," Tracey Harris, Chief Operating Officer of EML said.

Neven was the recipient of the EML National Excellence Award for Outstanding Leadership as a result of her impact on building capability within a diverse team and supporting the development of new case managers.

Neven and her team manage the workers compensation claims of people who for many years have been rebuilding their lives after psychological injury. Under Neven's leadership, her team has helped more than 150 long-term injured workers get back into everyday life and find new employment.

"EML's mission statement summarises for me the reason why I turn up to work each day – empowering and upskilling our team members, so we can support workers in overcoming what can be a difficult period in their life" Neven said.

The Industry Champions 2020 selection committee recommended Neven as the Young Professional Industry Champion of 2020 based on the outstanding, positive contribution she has made to the delivery of insurance and care services.

"Congratulations to all the Industry Champions of 2020. Thank you to icare for finding a new way to acknowledge the outstanding contributions made through the many challenges for our industry, employers and workers. We've all had to re-think the way we support people, at a time when they need us most," Ms Harris said.