On Friday 6 July, our Hotel Employers Mutual (HEM) team was delighted to be joined by the Hospitality Employers Mutual Limited Board of Directors, AHA NSW Directors and team members to celebrate a decade of helping hospitality workers get their lives back. The night at Harbour 220 in Sydney was also celebrated with our valued members.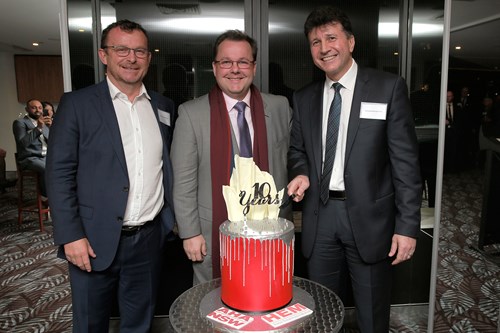 Hospitality Employers Mutual Limited CEO George Katsogiannis commented in his welcome speech; "I want to take this opportunity to thank all the members for your continued support in making the HEM brand what it is today".
George went on to give a brief history and what went into building the business.
"The journey began back in 2007, when Hotel Employers Mutual was a shared vision by representatives of Australian Hotels Association and Employers Mutual who got together to secure a specialised workers compensation licence for AHA NSW members.
"Hard work made this vision a reality, which included raising millions of dollars in capital and satisfying the two regulators - the plan came to fruition in March 2008 when Hotel Employers Mutual Limited was issued licenses by WorkCover and APRA."
HEM issued its first policies in April and June 2008 with just five customers – two accommodation hotels and three pubs, which together paid approximately $1m in premium.
A decade on and those five original members are still with HEM.
HEM now insures more than 122 accommodation hotels and 768 pubs with multiple sites and properties representing more than $40m in premium.
During that time HEM has assisted thousands of people in getting their lives back, by continuing to improve the return to work for their customers. This, together with their work health and safety focus on reducing their customer's exposure to risk, has led to premium discounts and savings in the tens of millions of dollars. This is a significant achievement which crystallises the success of industry specialisation.
The business has reached a size that is sustainable and fulfilled the vision of the AHA NSW to provide a viable, industry leading, workers compensation alternative for their members.
George was also able to share the news with guests that Hospitality Employers Mutual had been recognised as a finalist in the 15th Australian Insurance Industry Awards in the Young Insurance Professionals Employer of the Year category.