More than 200 attendees of a recent Embracing Change for First Responders Education Day heard from Australian leaders: Sir Angus Houston, Lucy Brodgen, and Catherine McGregor on their guide to successful career transition.
The day was held in partnership between EML and Fire and Rescue NSW to launch the new Career Transition Guide. Career transition and its impacts on family, mental health, and organisations are more likely to be successful with good support and education. Further resources are provided at the end of this article.
SPEAKERS
AIR CHIEF MARSHALL SIR ANGUS HOUSTON AK AFC (RET'D)
People before process: Process is important but the focus of career transition should always be on the people.
"The challenges of career transition are different for each person. Managers need to deal with people on an individual basis to really assist them with adjusting to a new career."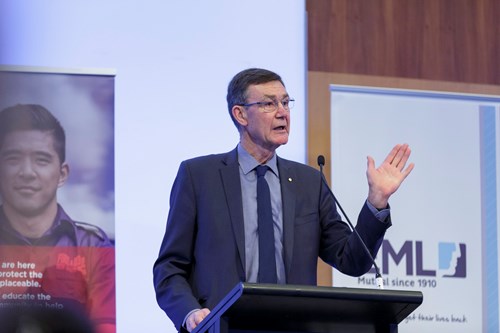 Transition takes longer than you think: Get your transition plan together as early as possible. If possible, talk with your supervisor many months in advance. Ask what supports are available and access your required entitlements before you leave.
To employers: Successful transition requires leadership at all levels, not just the supervising manager. Recognise also that the time to support and care for employees going through career transition goes beyond the time of their employment, extending for up to 12 months after they've left.
Mateship is the purest form of leadership: When someone is doing it tough, mates look after each other. Make sure no-one is left behind. Stay connected through peer associations, sporting clubs or another activity that helps you get the right balance.
Skills are transferrable: Recognise your potential. When you have a career you are skilled, competent and reliable. These are high-demand attributes in community and business. Don't under-rate yourself.
NATIONAL MENTAL HEALTH COMMISSIONER MRS LUCY BROGDEN
Acknowledge transition upfront: We used to have this notion of "a job for life" but the reality today is that people move a lot. Sometimes voluntarily and sometimes involuntarily. The more we recognise that's a reality of life the better. We know that life transitions can be a trigger for psychological distress so the more we manage career transition the better chance we have of good mental health.
Do what you love and love lots of different things: As John was evaluating new career options he focussed on what he'd enjoyed about politics: leadership, management, and big-picture problem solving. He looked for a new career that could offer these things.
I encourage you to do an audit of the things you love and to imagine each of these is a different identity. These might include: career, family, friends, sport. The more identities you have, the more likely you are to flourish and be satisfied with life. Sharing your eggs across multiple baskets means you don't lose them all when something happens.
Be a mirror: 
"The greatest gift you can give someone is to notice, imagine and feel for them."
If someone you know is going through a tough time, try using the language of "I notice", "I imagine" and "I feel" to let them know you care and take steps towards getting the right help.
Often Managers see someone is struggling before others in the team notice. Your role is to reach-out to your staff, work out safe supports, create a safe culture, and work out who needs to be involved in providing support to that person.
Team Family: No-one climbs Everest without a map or support team. Family can be a terrific support, especially when they're involved in the process. If you feel it will help, involve family members in setting out the steps and strategies for career transition, and share advice on supporting each other.
CATHERINE MCGREGOR AM
You are more than your uniform or business card: It's important to see yourself as someone at the human level, regardless of your uniform or business card.
I had been repressing my gender since childhood. I also suffered from PTSD but the camaraderie of staying in uniform had to some extent protected me against its effects. My transition brought my past problems to the fore.
I thought the military would laugh me off the park. But they didn't and I was deeply humbled by that.
The unfamiliar can be terrifying and often career transition is mistaken for an ending, as something being taken away. The transactional cost of my gender transition was loss of my marriage, home and friends. But I got the most important thing on earth – to be myself before I died.
"I am a person who thrives on certain things and there are people whose lives I might be able to improve."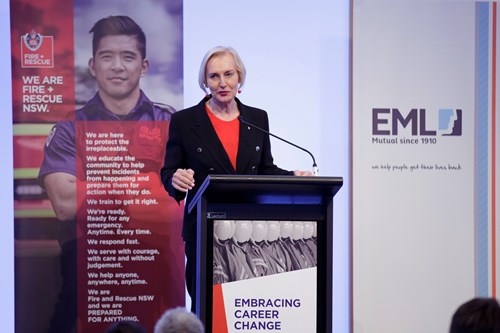 Be a mate: Never leave a mate behind. Reach out to friends who've left their career, ask if they're ok. Set yourself the task of calling an old mate once a year.
Power of networks: Networks are very important. The power of networks can be counter-intuitive in some workforces but everyone has a network. There are people in your network who believe in you and who you can call on for new opportunities.
FURTHER RESOURCES
Support resources are available through community services and I encourage you to speak to your employer about what services they offer specially for employees. Our Inappropriate Corporation campaign provides resources and useful links for mental wellbeing in the workplace.
Members of EML have access to a range of programs, training and resources that support employee health and wellbeing. 
By preparing in advance you can ultimately be the influencer in where your transition can lead you.
EML has partnered with the Fire and Rescue NSW (FRNSW) command to produce a Career Transition Guide. For further information on this Guide please contact NSW Fire and Rescue Health and Safety on 02 9265 2800.
Read and watch a firefighter's experience of career transition in this Q&A with former Station Officer Greg Williams and the video recordings of Greg and his wife Debbie Williams.
"We are very proud to support NSW Fire & Rescue, NSW Health, the NSW Police Force, the State Emergency Services and Rural Fire Services. We also recognise the importance of providing education and support for understanding and management of workplace injury, and prevention in the first place" said Mark Coyne, CEO of EML.
Watch a video recording of Mark's presentation about his own career transition and how the partnership between EML and Fire and Rescue NSW is providing support to firefighters.
The Hon. Troy Grant, Minister for Emergency Services shares his personal experience of career transition from NSW Police to Politics in this heart-felt video message.