On 15 & 16 October 2020, Fortem Australia hosted the virtual Emergency Services Mental Health & Leadership Summit in partnership with Public Sector Network and supported by EML.
The summit was an opportunity for commissioners, senior staff and health & wellbeing teams to come together and hear about current mental health initiatives in first responder organisations and perspectives from international organisations. More importantly, it functioned as a forum for attending first responder organisations to share best practice and impact measurements in a way that has not been possible before. Registration for the event was exclusively for the Emergency Services Community.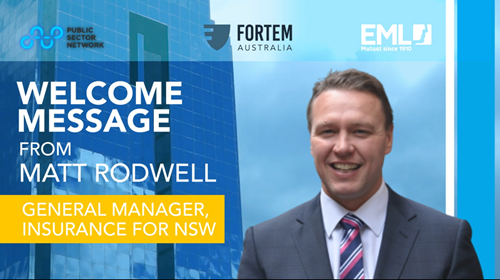 Matt Rodwell, General Manager Insurance for NSW at EML addressed the 330+ attendants and spoke about how our experience in managing claims for, Fire and Rescue NSW, NSW Police and ACT Fire & Ambulance has made EML aware of the impact that declining mental health or psychological injury has on a person's life. Matt also spoke about the importance of correct diagnosis, early intervention, right treatment and support from employers in recovery and regaining a fulfilling life.
The line-up of speakers and panellists included: James Maskey, Police and Emergency Services Engagement Manager, Beyond Blue, Nicole Sadler AM CSC, Head of Policy and Practice, Phoenix Australia, Stuart Ellis, Chief Executive Officer, Australian Fire and Emergency Service Authorities Council (AFAC) and Jeremy Fewtrell, Deputy Commissioner – Field Operations, Fire and Rescue NSW.
Find out more about the event here: https://info.publicsectornetwork.co/fortem-leadership-and-mental-health-summit