It was five years ago that Australian experts published Guidelines for the diagnosis and treatment of PTSD in emergency service workers, with funding from national personal injury claims management organisation EML.
"At EML we see firsthand of the toll PTSD and exposure to trauma can have on the mental health of Emergency Service Workers, as well as the far-reaching impacts on their family, friends and work colleagues" EML General Manager of Insurance for New South Wales Matt Rodwell said.
Since that day in 2015, a number of changes have been made to improve treatment practices and accessibility. Information from the Guidelines has been embedded into case management practices at EML, and injury prevention and recover at work practices across emergency service agencies nationally.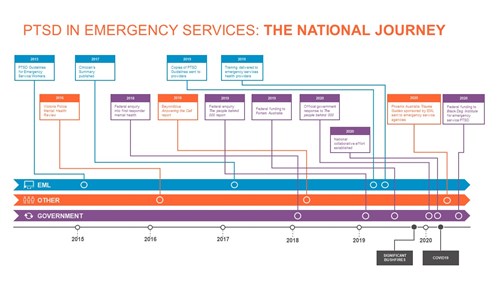 Consultation session durations increased
One of the relevant findings of the guidelines was that where traumatic events are discussed in detail during therapy, at least 90 minutes is required for that session. The maximum compensable session duration in 2015 was only 60-minutes. Following publication of the guidelines, submissions were made to SIRA leading to an increase in the compensable consultation duration to 90-minutes.
Gold standard therapy more accessible
Another key inclusion in the Guidelines was the recommendation of Eye Movement Desensitising and Reprocessing (EMDR), Prolonged Exposure (PE) therapy. EMDR and PE are now considered the gold standard for treatment of PTSD. EML funded a series of training sessions delivered by Associate Professor Daryl Wade of Phoenix Australia, and Graham Taylor of Therapist Training. There are now more than 100 psychologists confident to deliver EMDR and PE therapy to clients who have PTSD.
"We thank those practitioners who have adopted in the Guidelines in their treatment programs and are seeing the positive impacts on recovery rates. We are seeking the implementation of the Guidelines across all mental health practitioners for consistent best-practice treatment of PTSD, as we do know people are able to recover and continue fulfilling, enjoyable lives" Matt said.
Help-seeking barriers addressed
In partnership with experts nationally and emergency service agencies, EML has supported and developed a range of videos, guides and articles on managing PTSD for both injured workers and clinicians. Access these resources at www.eml.com.au/ptsd
"These resources were funded through EML's Member Benefits. As a mutual organisation, EML invests in programs and services that support employer members and their workers. We are committed to ongoing contributions to best practice in mental health support for emergency service workers" Matt said.
What's next?
The Government has committed to a national action plan on first responder mental health. EML welcomes the development of a national, collaborative approach to addressing mental illness and suicidality in Australia's first responders and emergency services workers, including volunteers and former/retired workers.
"The effects of a psychological injury on a person's total wellbeing cannot be underestimated. EML is committed to working with our emergency service, academic, clinical and community partners to deliver improvements in the prevention, management and recovery from psychological injuries like PTSD" Matt said.
---
Referenced reports, guidelines & resources
Expert Guidelines: Diagnosis and Treatment of PTSD in Emergency Service Workers:
https://www.eml.com.au/media/1145/ptsd-guidelines-diagnosis-and-treatment-of-post-traumatic-stress-disorder-emergency-service-workers.pdf
Clinician's Summary of PTSD Guidelines:
https://www.eml.com.au/media/1537/clinicians-summary-of-ptsd-guidelines-diagnosis-and-treatment-of-post-traumatic-stress-disorder-emergency-service-workers.pdf
Beyond Blue: Answering the Call national survey and findings:
http://resources.beyondblue.org.au/prism/file?token=BL/1902
The people behind 000 Recommendations:  https://www.aph.gov.au/Parliamentary_Business/Committees/Senate/Education_and_Employment/Mentalhealth/Report/section?id=committees%2freportsen%2f024252%2f26970
Government response to The people behind 000: (references the PTSD guidelines) https://www.aph.gov.au/Parliamentary_Business/Committees/Senate/Education_and_Employment/Mentalhealth/Government_Response
PTSD in Emergency Service Workers
eml.com.au/ptsd