EML is honoured to be announced the winner of the CitySwitch National New Signatory of the Year 2017.
The annual CitySwitch National Awards recognise leading program signatories which have demonstrated outstanding environmental leadership.
After winning the Victorian category earlier in November, EML took out the category at the national awards held at the Royal Botanic Gardens on Tuesday 28 November in Sydney.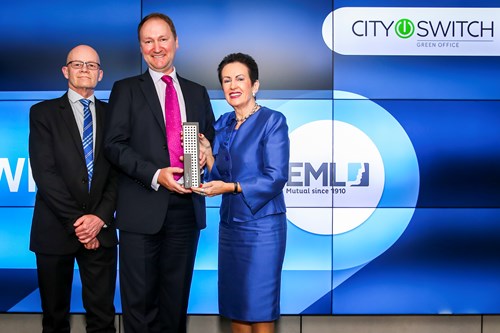 The national judging panel recognised the successful implementation of our Activity Based Working (ABW) environment in the tenancy fit-out of levels 6 and 7 of 385 Bourke Street Melbourne in July 2016.
"EML demonstrated exceptional leadership, communication, use of resources and inclusion of government tenders. It's no wonder they achieved such positive outcomes!"
Our Bourke Street office has received a 5.5 star NABERS tenancy energy rating; and EML is in the top 5% of tenancies rated in Victoria.
Our 5.5 star NABERS rating (out of a possible 6 stars) is reflective of EML's sustainable business practices and strategies employed across Australia in all our offices.
We engaged professionals in procurement, design, build and project management to introduce our ABW environment with attention to staff wellbeing and environmental sustainability.
Some of the initiatives introduced into our tenancy fit-out included:
Movement sensors on all lights
Timers on all supplementary air-conditioning
Clean desk policy – no monitors left on overnight
Energy efficient kitchen appliances
We are pursuing further improvement in energy savings and working with CitySwitch to progress initiatives around recycling and waste management in the coming year.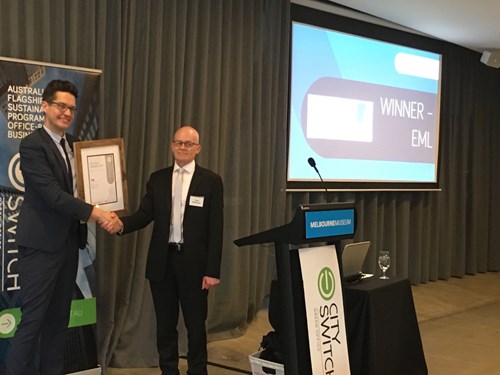 Councillor Rohan Leppert chair of the Arts, Culture and Heritage for the City of Melbourne presented the Victorian award to Lloyd Backhouse, EML Building Services Team Leader on 16 November.