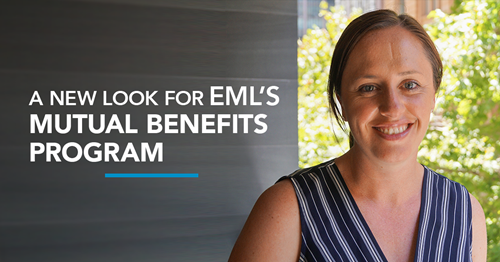 For over 110 years, EML has been helping people to get their lives back after a workplace accident or illness. Given that we work so closely with employers and their employees throughout their recovery after an injury, it is incredibly important to us that we find even better ways to support their welfare and prevent workplace injuries.
That is why we reinvest a percentage of our profits into socially responsible projects and research into innovative workplace safety.
In fact, we have committed over $87M since 2012.
Creating safer workplaces
We are delighted to announce that Katie Fletcher has been appointed as the Head of Mutual Benefits at EML and will lead a newly resourced team, dedicated to championing innovation in workplace safety and ensuring that all our customer employers have access to tools and resources to support best practice in injury prevention and injury management.
New employer education program
A new series of dynamic and interactive webinars for employers has just been launched as part of the team's annual Employer Training Program. Details of the courses and information on registering can be found at eml.com.au.
Each webinar is hosted by industry professionals and will cover a topic in one of the following areas:
return to work
workers compensation
workplace health, safety, and wellbeing
mental health
Additional webinars and face-to-face training courses will be added to the program throughout the year. EML customers can also access, at no cost:
Work worth doing
Workplace injuries can be devastating for both employees and the organisations they work for. Safer workplaces mean fewer injuries. Better claims outcomes mean injured workers get the support they need to return to sustainable work and get their lives back sooner.
'We have an incredible opportunity to work with leading researchers, industry experts and advocacy groups to develop exciting programs which make a tangible difference to businesses and workers, right across Australia,' said Katie Fletcher. 'I'm looking forward to sharing stories of our success as we work through our impressive pipeline of 2021 workplace safety projects.'
For more information on EML's Mutual Benefits Program and to register for our training courses visit our Mutual Benefits page.