The 2016 International Forum for Disability Management was held in Kuala Lumpur, Malaysia from 22 -24 November 2016,  bringing together leading experts from around the world to discuss and share innovations for transforming disability management.
EML was proud to have been invited to address delegates across three presentations.
Rachel Elmes, General Manager TMF  together with research partner Andrew McGarity Manager, Injury Management  from Fire & Rescue NSW presented the New Guidelines for Treatment of PTSD in Emergency Service Workers - An Agency View. As co-presenters, Rachel and Andrew addressed the multi-layered approach developed by Fire & Rescue NSW to tackle the impact psychological injuries have on emergency services workers.
Karen Munk, Strategy and Innovation Manager presented on Government, Industry and Academic partnerships delivering innovation in disability management and how they are proving a successful formula in delivering innovation in disability management. Karen shared with the forum the many successful partnering initiatives EML has undertaken in relation to work health and safety, risk management and returning injured workers to work quicker and in a safe and sustainable way.
Behavioural Insights sharing EML's methodology to offering a positive and human-centred approach to helping people take a positive approach to recover health and regain good work.
Rachel Elmes said "it was an amazing 3 days of inspiring and thought-provoking presentations" and thanked her colleagues for sharing in this incredible experience.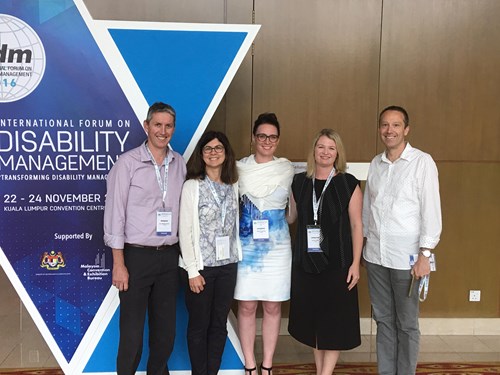 Pictured: Cameron Gosling, Karen Munk, Rebecca Neilson, Rachel Elmes and Andrew McGarity at the 2016 International Forum for Disability Management.