The patented JobFit System is an online interactive database that enables employers to compare a worker's physical capabilities to their job demands, and instantly learn what the worker can do, can't do, and how to risk manage the gap in between.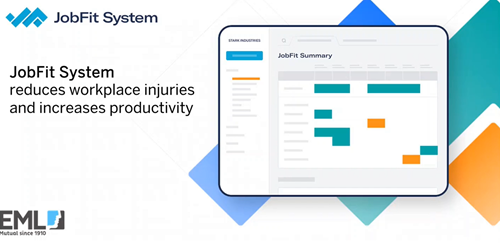 JobFit System software is a complete pre-hire to retire solution that supports organisations with:
return to work planning
pre-employment screening
manual tasks risk assessment
health and wellbeing strategy.
EML Offer: 20% OFF THE SOFTWARE, SUBSCRIPTION OR LICENSE FEE
Key benefits
JobFit System helps organisations with pre-employment screening and return to work planning to:
Reduce administrative burden and inefficiencies associated with traditional, paper based job dictionaries.
Optimise the capabilities of job dictionaries with powerful online tools.
Key terms and conditions
Customers must be a current EML customer and provide their policy number or employer registration number.
If you are already an existing JobFit System customer, please contact JobFit Systems to discuss an alternative offer.
Please visit our EML Offers Terms and Conditions page for full details.
Find out more
For more information please contact JobFit System or visit their website here.