HSE Global has run safety leadership workshops and mental health training for some of the world's leading organisations, the experiential learning experience uses adult based learning principles and can be completed either onsite, online or blended workshops.  Our safety leadership and wellbeing programs are designed to build individual and group capability.  
Measuring and Managing Mental Health and Wellbeing
HSE Global helps organisations to effectively measure and manage employee mental health and wellbeing through technology, focused strategies, and training programs.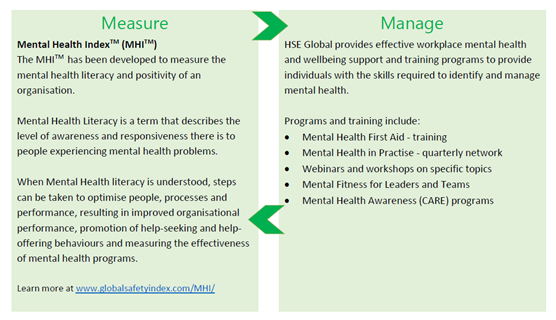 HSE Global has significant clinical and frontline experience in mental health and wellbeing disciplines – with registered psychologists and instructors from psychology, counselling, social work, and occupational therapy to crisis intervention specialists – and has recognised group facilitation capability at executive and board level.
HSE Global is one of the largest providers of Mental Health First Aid (MHFA) in Australia and New Zealand and supports many of EML's top tier customers, several universities, mining, and logistics organisations.
The benefits of our safety leadership training include:
leaders are challenged to consider what is their organisations culture and how to best improve
each participant comes away with actions plans to be applied purposefully back on the job
new skills and tools that centre on high performance WHS leadership, trust and demonstrating care.
workshops and training programs can be customized for your organization
workshops are run by experts who have been involved in operational execution.
EML Offer: SAVE 10% OFF ADVERTISED RATE
Accredited Mental Health First Aid
Mental Health First Aid Accreditation including:
Face-to-face: 2-day facilitated program (up to 20 participants)
Blended: 5-7 hours online learning and half a day face-to-face facilitated program (6-12 participants)
Online: 4-6 weeks online learning and 2x 2.5hr online facilitated program (6-12 participants).
Mental Health and Wellbeing Programs
CARE Program (Mental Health Awareness)
Face-to-face: 1 day (up to 20 participants)
Online: 4hrs (6-12 participants)
Mental Fitness for Leaders
Online: 1.5hrs (6-12 participants)
Mental Fitness for Teams
Online: 1.5hrs
Safety Leadership
Safety Leadership Training
Custom programs that can be tailored from a half day up to a 2 day program
All programs can be delivered either face-to-face or online.
Note: combined leadership and wellbeing programs can be delivered. 
Terms and conditions
Must be a current EML Customer
Existing HSE Global customers are not eligible for this offer during their current contract. Discounts on contract renewal apply.
Contact HSE Global regarding the particulars of this offer.
Please visit our EML Offers Terms and Conditions page for full details.
Find out more