We know it can be a difficult time for people who are transitioning out of the workers compensation system. To help, we're offering a transition support service to make things easier by connecting you with health, employment, and community services to get you the support you need.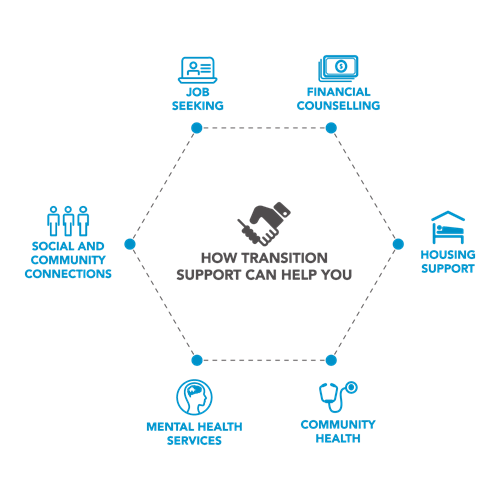 Working one-on-one with a qualified rehabilitation specialist, you'll receive a tailored plan that is based on your individual circumstances, needs and goals. You will be supported each step of the way.
This new service is being offered to a limited number of people in the first instance. We have partnered with Monash University to help us evaluate the service to ensure it's making a positive difference in people's lives.
Taking up the service won't have any impact on your claim, and no one involved in the transition service or Monash University will have access to your claim file. In time, we hope to be able to offer this service more broadly, to help as many people as possible receive the support they need.
If you are interested in taking up this service, or would like more information, please email TransitionSpecialist@eml.com.au 
Frequently Asked Questions
Is there a charge for this service?
No, the transition service is free – it's designed to connect you to useful services to get you the help and support you need.
Will my decision to participate affect my claim?
No, this service is completely independent of workers compensation. Taking up this service is completely voluntary and will not affect your claim in any way.
Will the service stop when my benefits stop?
Transition support is generally provided for three months from the date you are referred to the service. This is a good time to assess your needs and look at what support services may be suitable for you. The service isn't linked to your benefits at all, and the transition support service may continue after your benefits have ceased.
What type of services will I be referred to?
This will depend on your personal circumstances, but examples may include free mental health services, housing support, financial counselling, community workshops, job seeking support and childcare.
What information do you collect? How is my privacy protected?
Our Transition Specialist will not have access to your claim file. Monash University is evaluating the service and will need access to the information that we collect as part of the program (subject to your
consent), which will be deidentified to respect your privacy. This includes standard demographic information as well as basic claim details. Our Transition Specialist will also request your participation in general health and wellbeing surveys to help us confirm that the service had a positive impact on you. Any data gathered will be deidentified – so no results will be linked you.