April 13, 2023
At a special event on February 23, David Wrout was announced as the winner of the Worker Return to Work Achievement Award at the WorkSafe Awards.
The award recognised his extraordinary commitment to recover from a serious spinal cord injury and return to work as a stable hand with Grampians Racing.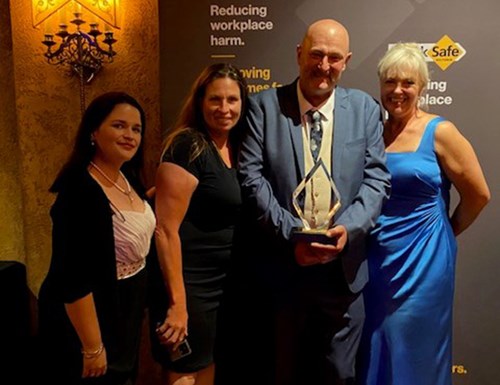 Pictured: EML's Ashley Baird and Mandi Bonheur celebrate with Ann Puls and David Wrout (centre) of Grampians Racing
In a few seconds, David's life changed.
David, in his early 50s, was living alone on a remote two-hectare property in north-west Victoria and enjoyed looking after his animals and two elderly dogs, gardening and woodwork.
In February last year, David was riding a quad bike towing a sprinkler system that he was moving to clean and water the racing track. The tow line became tangled around the accelerator cable causing the bike to pick up speed and hit the fence.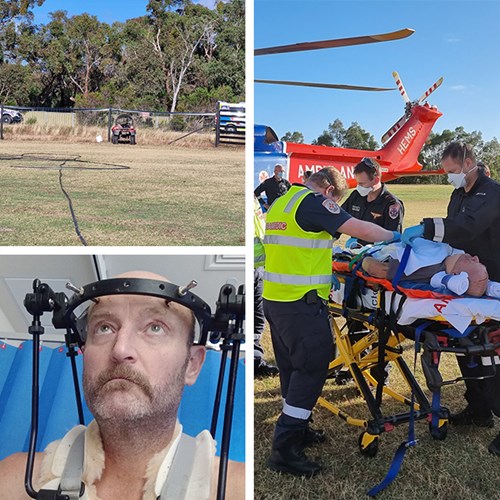 David was paralysed and unable to feel his body. It was 40 minutes before his colleagues found him.
He was airlifted to the Royal Melbourne Hospital and diagnosed with a spinal cord injury. He was placed in the ICU for three days and had a blood transfusion due to internal bleeding.
David remained in hospital for almost a month and was then at rehabilitation centre for two months. He was placed in a halo (a medical device used to stabilise the cervical spine after traumatic injuries to the neck) for eight weeks.
Support made all the difference
"The support from my colleagues and my employer was just brilliant," says David. "We'd talk each week about the horses and how they were racing. My friends and family were very supportive too.
"Mandi (Mandi Bonheur, EML mobile case manager) attended some appointments with me and helped to explain the process about what to do next.
"I didn't think I could be useful enough at work to go back. Mandi got the ball rolling to find out what I could do at work and that really helped."
David was also supported by his EML case manager, Ashley Baird who said: "David was very driven to return to work from the start. He felt very valued by his employer and wanted to get back as soon as he could."
David reflects on his first day back at work, just five months after his accident:
"It was just awesome seeing everyone and feeling like part of a team again. They were all cheering – I've never felt so loved!"
Since his accident, Grampians Racing has reviewed all their workplace practices and policies and no longer uses quad bikes. David returned to his pre-injury hours 11 months after his injury.
When asked what winning the WorkSafe award means to him, David says: "It's recognition for my determination to get back to work and for my employer, for their support. Mandi and Ash from EML were absolutely wonderful. I couldn't have been in better hands. They were always working on my behalf to help me recover."