Sometimes, getting your life back after injury means taking a different career path. A few years ago, EML worked with Woolworths Group to help people who could no longer follow their chosen career because of injury.
The focus was on helping them identify alternative options and build their capacity, skills and pathways to pursue those options.
The pilot program began in Victoria in early 2016, followed closely by Queensland and New South Wales. By the end of 2017, 25 people were on their way in a new career and by 2018, more than 100 people had achieved new career goals. The financial, social and emotional impact of the program on individuals and their families was compelling.
In mid 2019, EML Group launched Your Future Career and Wellbeing as a specialist provider of outcome-focussed career management programs. The organisation now provides career assessment services, diagnostics, job placement and career case management services to both public and private enterprises in Australia.
Simon Davidson, General Manager, Your Future believes that everyone should have the opportunity to have a productive and fulfilling career and a strong connection to community.
Our dedicated career management practitioners bring a wealth of knowledge and experience to help our customers really understand what is takes to work through a change in career. We consider a person's life circumstances and the role they see themselves working in the future."
Susie's Story
Susie Young worked in the meat section at Woolworths for seven years before injuring her shoulder. After taking on the Your Future program, Susie was employed by the Royal Queensland Yacht Squadron as Marina Receptionist and her new career opened doors to bookkeeping and office administration.
From a business perspective, the Your Future program for Woolworths delivers a return on investment of $6 to every $1 spent. The positive impact on people and their families is rewarding to see.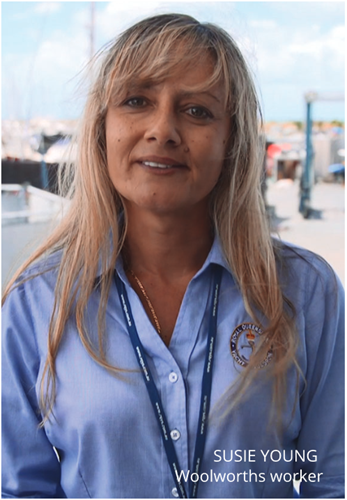 Visit yfcw.com.au for more.
Together Magazine
The Together magazine explores the latest trends, developments and research in the workers compensation landscape so that together we can all support people to get their lives back.
This article features in the latest version - download via the below link.
Or view earlier editions of Together Magazine via our Member Benefits page.