More than 600 people came together to celebrate the finalists and winners of the 2023 Geelong Business Excellence Awards at a special presentation event at GMHBA Stadium on October 19, 2023.
This is the 37th year the awards have been run by the Geelong Chamber of Commerce.
"We're proud to sponsor the awards," says EML's General Manager of Victoria, David Pickering. "It's a fantastic night for people to connect and to acknowledge the achievements and innovation of businesses and leaders in the region."
David presented the award for the medium to large business category to Cottage by the Sea.

Cottage by the Sea CEO Andrew Ward (left) with EML Victoria
General Manager David Pickering

"This children's charity is such a deserving winner," David says. "They do such great work to make a real difference for children aged 6-18 experiencing disadvantage or trauma through short-stay, adventure-based programs."
David continues: "The team at the Geelong Chamber does an awesome job organising the event which is a real asset to the business community in the region.
"We've had an office in Geelong since EML came to Victoria in 2016. Our business continues to grow and we have doubled our team in Geelong to provide even more dedicated support, service and care to our regional customers."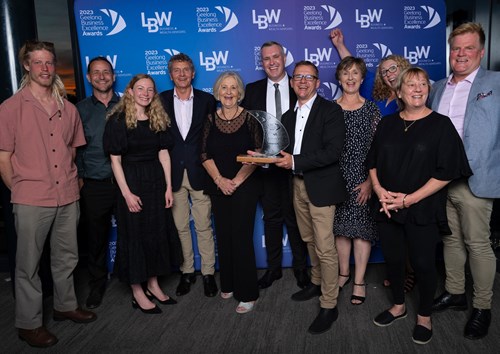 David Pickering with the team from Cottage by the Sea
Congratulations to all the finalists and winners – view the details here.