Launched as part of National Mental Health Awareness Month, a new e-learning course is now available to our customers through EMlearning. 
How to Help a Teammate in Distress
Our new e-learning course, How to Help a Teammate in Distress, has been developed by FactorC and incorporates their award winning WeCARE program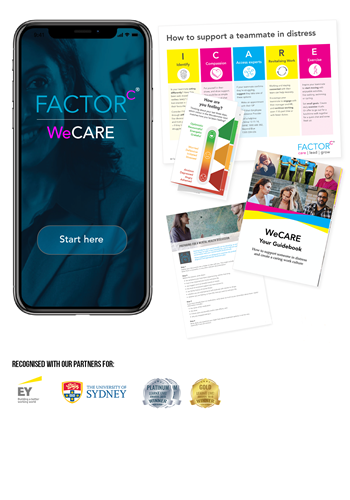 The course helps employees, leaders and employers to identify and provide support to teammates who may be experiencing mental distress. 
How to Help a Teammate in Distress is key component of the award winning WeCARE program which is a scalable, cost effective and accessible way of developing a high performing culture of care in Australian businesses. 
Customer value
The course generally costs $40 per participant however we are offering it FREE through  EMlearning.

We have a limited amount of licenses available, so a cap of 500 users per organisation will apply. This means that simply by being an EML customer, you could save up to $20,000 in registration fees.
Accessing the course
EMlearning is our online training platform with a range of free courses available exclusively for EML customers and their employees through the Mutual Benefits Program.
To access the course simply log in to your EMlearning account and visit the 'My Training' page.
We have provided instructions on how to enrol your employees into the course here.
Don't have an account?  Find out more about EMlearning or register here. 
Supporting the mental health of your workforce
As a valued customer of EML, you also have access to a range of resources, virtual events, training and special offers to help you to safeguard the mental health of your people.
During October's Mental Health Awareness Month, consider taking a moment to see what you can access through our Mutual Benefits Program to help improve the mental wellbeing of your people. 
In a addition to our exclusive customer specials for October you may like to visit our Mental Health Collection  which contains resources for workers, their families and employers to assist with prevention and recovery from work-related psychological injury or mental illness.
Creating safer workplaces 
We are always on the look out for projects, research and innovations that will achieve our goal of helping employers to create safer, better workplaces.
We look forward to sharing more news regarding our latest customer initiatives soon, however in the meantime please contact a member of Mutual Benefits regarding our customer offers.