New South Wales Minister for Mental Health, Pru Goward MP – met with key industry leaders on 28 October 2015 to launch the world's first Guidelines for the diagnosis and treatment of post-traumatic stress disorder (PTSD) in emergency service workers.
Unlike the general population, emergency service workers have a higher exposure to trauma which requires a revised set of Guidelines for diagnosis and treatment of PTSD.
The new Guidelines will provide emergency workers suffering PTSD, their families and carers with a clearer means for accessing specific and required support. The new Guidelines also aims to provide treating practitioners, therapeutic providers and workers compensation groups with updated guidelines for best practice when diagnosing or treating emergency service workers with PTSD.
 
"To the best of our knowledge, these new Guidelines are the first PTSD diagnosis and treatment guidelines written specifically for emergency workers anywhere in the world. The use of these Guidelines will help support emergency workers suffering PTSD not only in New South Wales, but throughout Australia," said Professor Helen Christensen – Director of Black Dog Institute.
A panel of Australia's leading PTSD experts were brought together by Black Dog Institute who collaborated for three years to develop the new Guidelines. These best practice Guidelines focus on addressing the unique challenges associated with diagnosing and treating PTSD amongst emergency workers and managing their return to work.
The new Guidelines have also received endorsement by the Royal Australian and New Zealand College of Psychiatrists.
Commenting on its role in funding the research, EML CEO Mark Coyne spoke proudly of the efforts to help improve the support and return to work outcomes of emergency services personnel suffering PTSD.

"At EML we are acutely aware of the toll PTSD can have on the mental health of Emergency Service Workers, as well as the far reaching impacts on their family, friends and work colleagues. EML approached Dr Sam Harvey from Black Dog Institute and University of NSW to help fund a 3 year research project and these guidelines are a result of this effort. As a mutual organisation, every year we reinvest part of our profits back into our Member Benefits program which supports projects just like this."
"As a claims manager for thousands of Australian emergency service workers, the new Guidelines provide us with greater confidence that the treatment will be more effective and hopefully enable even more people to get back on with their lives sooner," said Mr Mark Coyne Chief Executive of EML.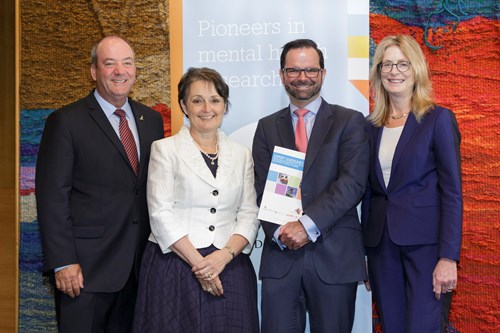 Pictured (l-r): The Hon Mr Daryl Maguire MP, the Hon Pru Goward MP, Dr Samuel Harvey, Professor Helen Christensen
About the Guidelines
Post-traumatic Stress Disorder (PTSD) describes a severe and persistent mental health impairment following exposure to a single or multiple traumatic events. There are typically four types of symptoms: re-experiencing; avoidance; negative cognitions; and arousal symptoms, including insomnia and irritability.

"In response, the Black Dog Institute brought together Australia's leading experts to write the Expert Guidelines: Diagnosis and Treatment of Post-Traumatic Stress Disorder in Emergency Service Workers (the Guidelines)," said Senior Lecturer Dr Samuel Harvey, Black Dog Research Fellow and Senior Lecturer at the University of New South Wales' School of Psychiatry.

"There are two main limitations of the Australian Guidelines for those managing people with PTSD. Firstly, the Australian Guidelines mostly focuses on the management of PTSD in general and does not address issues specific to emergency workers. Secondly, most available guidance is focused on symptomatic improvement. While a reduction in symptoms is often a necessary first step towards functional recovery; in cases of work-related trauma exposure, it is often not enough, due to the likelihood of further trauma exposure," said Dr Harvey.
"It was due to these two overriding reasons and a call from industry for improved best practice guidance, panel members believed a new set of emergency workers -specific Guidelines was needed. We have reviewed all available PTSD literature and current practice to develop these new Guidelines, and look forward to the improved therapeutic difference their implementation will make to the lives of emergency workers suffering PTSD."
"We believe the Guidelines are a world's first in developing best practice in the diagnosis and treatment of Emergency Service Workers with PTSD" added Dr Harvey.

The guidelines have been endorsed as gold standard by the Royal Australian and NZ College of Psychiatrists.