Humans are not designed to be sedentary, socially isolated creatures and as a result of high pressure, high stress, fast paced lifestyles our brains and our bodies often do not cope well with the pressure we place on it.
Anxiety and depression are common and we often compensate for this pressure through self-management, self-comfort and self-medication with alcohol, food and other behaviours that put us at risk.
Good mental health, or 'mental fitness' is all about optimising the way our brain responds to stress – both good and bad. Key building blocks that help support mental fitness and wellbeing include:
Sleep
Exercise
Stress management
Resilience building
Diet
Alcohol reduction
Staying socially connected
Professor Jane Burns, who was our keynote speaker at one of our EML Inspiring Women luncheons, has suggested several apps and e-tools that can help you support your mental fitness through exercise, quality sleep, mindfulness and diet. They are not designed to replace high quality clinical care for people living with a mental illness.
If you are struggling, the Head to Health website is a great starting place for seeking information about what services are available.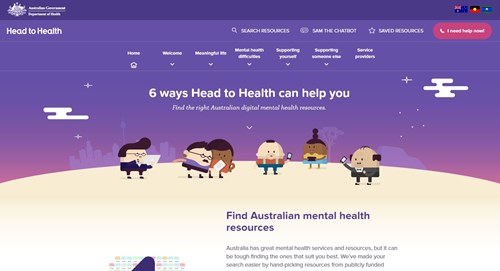 Apps for a good night's sleep
The benefits associated with a good night's sleep are endless, yet a significant number of people are not getting enough sleep on a regular basis. Australia, it's time to face the facts. We have a sleep problem and it's affecting how we live our lives. Research by the Sleep Health Foundation has found between 33 and 45 per cent of Aussies have poor sleep patterns that lead to fatigue and irritability that's putting them at risk of low productivity, damage to their mental health and unsafe behaviours.
The American Academy of Sleep Medicine and Sleep Research Society recommends that adults should sleep at least seven hours per night regularly. Promoting regular sleep patterns and healthy sleep habits is known as sleep hygiene. Sleep hygiene methods include going to bed and rising at the same time each day, avoiding large meals, caffeine, and alcohol before bedtime, and avoiding nicotine altogether.
This app tracks and analyses your sleep patterns. Choose your wake-up time, and the app will gently stir you from your slumber during your lightest phase of sleep to ensure that you wake up feeling rested,refreshed, and ready for the day ahead.
Your phone's built-in microphone picks up your movements as you sleep using sound and vibration analysis. The app analyses the data to determine if you are in light sleep, deep sleep, or a dream state known as random eye movement (REM) sleep, and it pinpoints the optimal time to wake you up within a 30 minute window that you set. The statistics dashboard displays graphs and analysis of your sleep phases, and the trends dashboard details your sleep quality percentage and sleep and wake up times, and it can even detect, track, and measure snoring.
Other apps include DigiPill, SleepTime and Recolor, with descriptions provided on Medical News Today. 
Apps for Exercise
There is very strong evidence regarding the role of physical activity in supporting mental health and wellbeing.
Runnkeeper is Professor Burn's personal favourite. It allows you to set goals, track progress, connect with the 41 million other users across a range of physical activities, including running, riding, hiking and walking.
Apps for Stress Management
Sometimes referred to as mental or emotional fitness, resilience is about your capacity to deal with life's challenges and stressful situations.
Just like when you go to a gym for your physical fitness, you can do the same by training and building your resilience fitness. This helps you develop coping mechanisms so you can endure the tough times and bounce back quickly.
Based on SMART (Self Management and Resilience Training), the High Res website and the companion app is like your virtual gym, a place for you to practice techniques that will help keep you resilient.
A guided meditation app developed by psychologists and educators designed to help bring mental health and wellness into users lives. It has meditation programs suited for all ages. 
ReachOut.com is an online social network for young people but two of their very simple apps that help in the management of stress, that are just as useful for adults include:  
The app is based on Cognitive Behavioural Therapy and helps people control anxiety by scheduling worrying so that it is confined to a specific time each day. Learning to capture and then postpone worrying makes it less intrusive and can bring about a greater sense of control. 
The app helps people understand their physiological response to stress and provides practical tips and advice to reduce the physical symptoms of stress and anxiety. The app uses the in-built camera on the iPhone or through the Apple watch to help users manage their breathing.
Apps for Gratitude
According to a study by researchers from the University of Minnesota and the University of Florida, having participants write down a list of positive events at the close of a day — and why the events made them happy — lowered their self-reported stress levels and gave them a greater sense of calm at night.
Keeping a gratitude journal, or simply expressing gratitude can be great for your mental health.
Appreciate a Mate is a simple app while the Gratitude Journal app helps the user to focus on the positive aspects of life, aiming to fight of the brain's natural tendency to focus on negative aspects.
Apps for Diet
Professor Felice Jacka from Deakin University Food and Mood Centre has been doing some incredible research showing the link between the Mediterranean diet and depression. Good foods include a balance of fresh fruit and vegies, but some foods in particular, eggs, blueberries, yoghurt, fish, avocado and walnuts all show very promising results. 
Drink Less
Hello Sunday Morning is an online community of Australians taking a break from alcohol.
Stay Connected
While these apps and tools are helpful to support good mental fitness, humans by their very nature are social creatures and staying connected is critical to good mental health so make some time to watch a movie with friends, grab a coffee, go for a walk or listen to some music.